ET X5 PCB Xray Inspection Machine
ElectronicsTalk is referred to as an organization that provides the latest technology in PCB inspection machines, and they have introduced their newest version called ET X5 PCB Xray Inspection Machine. It adopts the Japan Hamamatsu X-ray source and Korea Rayence flat panel detector, which ensures high-accuracy of focal spot size and pixel size. As a result, a clear X-ray image is capable to be produced.
Besides, it has a large detection area of 530×530 millimeters, which meets the inspection requirement of big PCB boards.
What's more, its software system is also highly intelligent and automatic. There are image effect adjustment method, display real-time coordination, movement speed control, void rate automatic calculation, etc.
Microfocus X-Ray Inspection System ET X5
Features of Microfocus X-Ray Inspection System
American Thermofisher's closed-type X-ray tube – the best on the market. With more than 10,000 hours of a lifetime and unparalleled reliability, our X-ray tube is the perfect choice for any inspection or fault detection application. T

rust in the superior quality of our advanced technology to provide clear and precise images for electronic components, circuit boards, and solder joints. Choose American Thermofisher for top-of-the-line X-ray technology and stay ahead of the competition with our cutting-edge manufacturing processes.

Upgrade to the latest generation of Yirui's HD digital flat panel detector (FPD) and experience unparalleled imaging quality. Our advanced technology eliminates the need for an image intensifier, resulting in clear, high-resolution images that are perfect for any medical or industrial application.

Trust in the superior quality of our FPD to provide accurate and reliable results for even the most complex imaging tasks. Choose Yirui for cutting-edge innovation and top-of-the-line imaging solutions.

Experience the next level of imaging with Yirui's latest generation HD digital flat panel detector (FPD). Our innovative FPD technology allows for tilting up to 70° without sacrificing magnification, providing unparalleled flexibility and accuracy for medical and industrial applications.

Eliminate the need for bulky tables and extra equipment with our cutting-edge FPD and streamline your imaging process. Trust in the superior quality of Yirui's advanced technology to provide clear and precise images for even the most complex imaging tasks.

Choose Yirui for top-of-the-line imaging solutions and stay ahead of the competition with our state-of-the-art technology.

Maximize efficiency during your imaging tasks with Yirui's automatic navigation window and advanced table movement technology. Our innovative system allows for precise positioning by simply clicking on the desired location.

Streamline your workflow and eliminate time-consuming adjustments or extra equipment with our cutting-edge technology. Choose Yirui for top-of-the-line imaging solutions and stay ahead of the competition with our state-of-the-art technology."

Yirui's imaging solutions offer a 600*800 mm table with a load capacity of 10 kg, providing ample space for a variety of imaging tasks. With our state-of-the-art technology and superior quality, you can trust our advanced equipment to provide clear and accurate images time after time.

Choose Yirui for top-of-the-line imaging solutions and stay ahead of the competition with our cutting-edge technology

The speed adjustable 5-axis linkage system of our imaging solutions ensures that the image remains central even when tilting, providing reliable and accurate results.

With this cutting-edge technology, you can easily adjust the speed to suit your needs and maintain the image's central position for enhanced precision.

Choose our imaging solutions for advanced equipment that delivers exceptional performance and quality time and time again.

Our imaging solutions allow for easy editing of inspection procedures, enabling automatic inspection in large quantities. With this feature, you can achieve efficient and accurate inspections with minimal manual intervention.

Choose our advanced equipment for streamlined inspection processes and increased productivity.

Easy to operate, can find defects quickly, need only 2 hours to train.
Hardware Parameters of PCB  x-ray inspection Machine
X-ray source
Brand
American Thermofisher
Type
Closed, microfocus
Max tube voltage
130kv
Max tube current
200μA
Focal spot size
2μm
Flat panel detector
Function
Auto preheat
Brand
China Yirui
Effective area
58mm*54mm
Pixel size
85μm
Resolution
1536*1536
Frame rate
30fps
Table
Tiltable angle
70°
R axis
360°
Detectable area

Max load

500mm*500mm

10kg

Equipment
Magnification
Geometry 300X  System 1000X
Inspection speed
Max 3.0s/point
Dimensions
1385mm (L) * 1250mm (W) * 1745mm (H)
Weight
1500 kgs
Power supply
AC110-220V 50/60HZ
Max power
1500W
Industrial PC
I7 CPU, 16G RAM, 1TB Harddisk WIN10
Displayer
27 HDMI LCD
Safety
Radiation leakage
No leakage, international standard: ≤1μSv/h
Lead glass
observation
window
Transparent lead glass window shields radiation to observe the inner status.
Window and back

door safety

interlock

Once users open the window or back door, X-ray tube will power off immediately. When the window or back door is open, users can't turn on the X-ray.
Electromagnetic Lock
once the X-ray is on, users can't open the
safety switch
observation window.
Emergency stop
Next to the operation position, press to power off
Tube protection
User can't leave the software to if you don't close the X-ray tube.
Dimension of PCB X ray Inspection Machine
Function
module
Operation
Keyboard and mouse can finish all operations
X-ray tube control
Using mouse to click the X button can turn on or off
the X-ray. The real-time tube voltage and current
value will display beside, users can click up and
down button, or drag the slider, or type to adjust.
Status bar
Indicates the interlock status, pre-heat status, and
X-ray status by flashing alternately red and green.
Image effect
adjustment
The brightness, contrast and gain of the image can
be adjusted freely to achieve a satisfactory result.
Product list
Users can save the inspection parameters such as
Z-axis position, brightness, contrast and gain, and
can directly call the parameters when inspecting the
same product, to improve the inspection efficiency.
Navigation
window
After the camera takes a photo of the table, click
anywhere in the photo, the table will move to the
place you click and display on the screen.
Motion axis status
Display real-time coordinates.
Inspection result
The measurement results (voids rate, distance,
area, etc., set by users) display in order.
Speed control
The movement speed of each axis can be adjusted
to slow, normal and fast.
Voids rateAutomatic
calculation
Automatic
calculation
Click on two points to determine a rectangle. The
software automatically finds and measures the edge
of the solder ball in the rectangle, the pad and the
internal voids, and can get the data of the voids rate,
he area of the solder ball, the circumference, the
biggest void's rate, the length and the width, and
indicates NG or OK by red and green.
Parameters
adjustment
Users can adjust the grayscale threshold, pixel, contrast, size filtering and other parameters to get accurate results of automatic calculation.
Add voids
manually
Users can draw a polygon or a free figure and
calculate it as a void into the void rate.
Save
parameters
Users can save parameters such as grayscale
threshold, pixel, contrast, size filtering and other
parameters, and can directly call the parameters
when detecting the same product, to improve the
detection efficiency.
Distance
Click the A and B points to set as the baseline, then
click the C point to measure the vertical distance from
the C point to the baseline.
Other
measurement
function
Distance rate
It is mostly used to measure the soldering rate of the
through-hole. Set one more point "D" than the distance.
Divide the vertical distance from the D point to baseline
by the vertical distance of the C point, to obtain the
percentage ratio of the vertical
distance of D to C.
Angle
Click the A and B points to set as the baseline, then
click the C point to measure the angle between the
BA and BC rays.
Radius
It is mostly used to measure round components such
as solder balls. Click three points to determine a
circle and measure the circumference, area and
radius.
Perimeter
It is mostly used to measure square components, click
two points to determine a square, measure the
length, width and area.
Users can set any positions on the table as inspection
Image Detection
Software
Manual setting
points, the software will automatically
inspect and save the picture.
Skills to
Analyze
Analyze and judgement of BGA short circuit, open
circuit, void, general soldering defects, etc. Even QFN,
Transistor and IC Packages.
Software
Processing
Capability
Image inversion, sharpening, histogram, binariation, 3
3D Stimulation for better analysis and X-RAY Image
Working Principle of PCB X-ray Inspection Machine
Application Example of PCB X-ray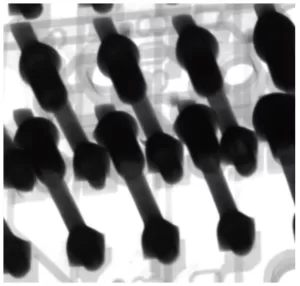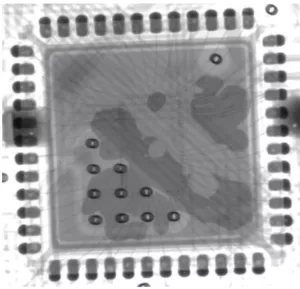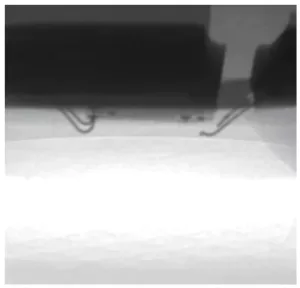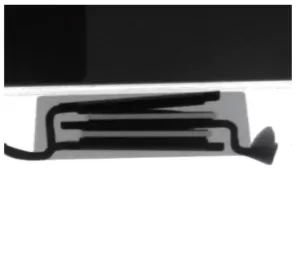 Thyristor surge suppressors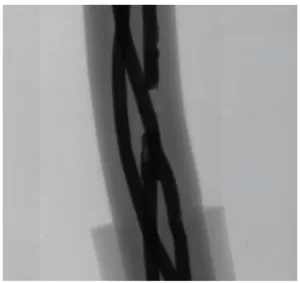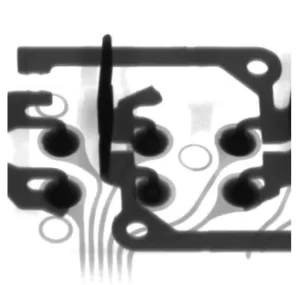 Sealed Hamamatsu X-Ray Source 90KV
Overview of Hamamatsu X-Ray
The Hamamatsu Microfocus X-ray sources were developed particularly for
X-ray non-destructive inspection system. These X-ray sources use an X-ray
tube with a small focal spot of several micro-meters to 10 micro-meters,
capable of producing a clear X-ray image even at a high magnification. The
RS-232C interface is provided as a standard feature,allowing automatic
operation by external control.
The X-ray tube has an air-cooled and hermetically sealed structure, and
is integrated with its high voltage power supply for easy handling.
(High voltage cables are not required.)
BGA , CSP , Flip Chip, LED , Fuse, Diode, Sensors, PCB Voids
Semiconductor , Battery Industry , Small Metal Casting, Electronics
Cables and Connectors, 3D Printing Module, Medical Device and Parts.
Hamamatsu X-Ray Source Features:
Focal Spot Size: 5 μm, enables sharp and clear X-ray images even at a high magnification
Easy Handling: fully operable from an external PC
One package of a sealed type X-ray tube, a high-voltage power supply and
a control function
Voltage and Current Range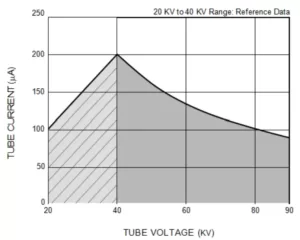 Specification of Hamamatsu X-Ray
GENERAL
Parameter
Description / Value
Unit
Input Voltage (DC)
24
V
Power Consumption (Max.)
96
W
Operating Ambient Temperature
+10 to +40
C
Storage Temperature
0 to +50
C
Operating and Storage Humidity
Below 85 (No Condensation)
%
Weight
Approx. 9
kg
Conformance Standards
CE (EMC: IEC 61326-1, Group1, Class A)
–
Operation
Continuous
–
High Voltage Power Supply
Built-in
–
X-RAY TUBE
Parameter
Description / Value
Unit
X-ray Tube
Sealed Type
–
X-ray Tube Cooling Method
Convection Cooling
–
X-ray Tube Window Material / Thickness
Beryllium / 150
μm
Target Material
Tungsten
–
Tube Voltage Operational Range
40 to 90
kV
Tube Current Operational Range 1
10 to 200 (8 W Max.)
μA
Maximum Output
8
W
X-ray Focal Spot Size
7 (5 μm at 4 W)
μm
X-ray Beam Angle (Coned)
30
degrees
Focus to Object Distance (FOD)
11
mm
X-RAY CONTROL PART
Parameter
Description
Unit
Function
Tube Voltage and Tube Current Preset / Auto Warm-up
–
Protection
Interlock
–
External Control
RS-232C
–
Applicable OS
Windows® 2000 Professional, XP Professional
–
Computer Operating Conditions
CPU: Intel Pentium or Higher, Memory: 64 MB or More
–
The Benefits of Using X-Ray PCB Inspection Machines
Here is a summary of some of the key benefits of using X-ray PCB inspection machines:
High-resolution imaging allows the detection of microscopic defects – X-rays can penetrate boards and components, revealing issues like cracks, voids, missing connections, or foreign objects that visual inspection would miss. Resolution down to a few microns is possible.
Rapid whole-board inspection – X-ray imaging allows the entire board to be scanned at once, rather than inspecting individual sections visually. This allows for faster throughput and detection of defects across the entire board.
Repeatability and objectivity – Machine inspection is consistent and objective, while manual visual inspection can vary between operators. This improves quality control.
3D inspection capability – Some X-ray systems generate 3D models of boards and components, allowing more thorough inspection from all angles.
Wide range of board sizes – Small boards and large panels can be accommodated by adjusting the X-ray camera setup. No size limitations like with optical inspection.
Material agnostic – X-rays penetrate metals, plastics, ceramics, etc allowing inspection of complex multi-material boards. Component type and board thickness have minimal impact.
Detects issues like solder defects, contaminants, and placement accuracy – Besides physical defects, X-rays can identify botched solder joints, unwanted foreign objects, misalignments, and more.
The combination of high resolution, rapid throughput, and ability to detect minute defects makes X-ray invaluable for quality control in electronics manufacturing. Implementing X-ray inspection improves product quality and reliability.
The different factors to consider when choosing an X-ray PCB inspection machine
Here are some key factors to consider when selecting an X-ray PCB inspection machine:
Image resolution – Higher resolution allows seeing smaller defects. Typically measured in microns. Sub-micron resolution is best.
X-ray source power – Higher power allows the penetrating of thicker and denser boards. 30-160kV sources are common.
Detector technology – Newer CMOS detectors offer faster scanning and lower noise than CCDs. Resolution and pixel size are also factors.
Size and thickness capacity – Machines differ in the maximum PCB size and thickness they can handle. Pick one that matches your products.
Conveyor speed – Faster conveyors mean higher throughput. Important for high volume production. Speeds from 10-200mm/second are typical.
Software capabilities – Software for analyzing images, defect detection, generating reports, etc. Should have sufficient analysis tools.
3D inspection – Some systems offer 3D scanning capability for thorough inspection. Useful for complex boards.
Price – Initial cost plus ongoing maintenance and consumable costs. Balance capabilities with budget.
Footprint – Larger systems take up more factory floor space. Consider available space.
Ease of use – Software and controls should be intuitive for operators. Extensive training adds costs.
Company reputation and support – Established vendors offer better support and are less risky.
Considering these factors will help identify the right X-ray system that meets inspection requirements within budget constraints.
The latest trends in X-ray PCB inspection machines
Here are some of the latest trends emerging in X-ray PCB inspection machine technology:
Higher resolutions – Newer microfocus X-ray sources allow sub-micron resolution imaging to detect even microscopic defects.
Faster line scan rates – High speed line scan cameras reach speeds of over 200mm/second conveyor movement allowing rapid inspection.
Integrated 3D inspection – 3D X-ray imaging is being integrated into inspection processes for complete board visualization.
AI-enabled defect recognition – Machine learning is being applied to automate analysis and identify defects without operator input.
Large panel inspection – Larger conveyors and scanning areas are being developed to handle PCB panels over 2×2 feet.
Dual angle inspection – Adding ability to scan boards from multiple angles gives more complete inspection.
Inline integration – X-ray systems are being integrated into manufacturing lines for live in-process quality control.
Cloud-based imaging – Scanned images are being uploaded to the cloud for remote analysis and data analytics.
Virtual reality visualization – Scanned 3D board data can be viewed and manipulated in VR for immersive inspection.
Automated reporting tools – Systems generate inspection reports, trends and analysis without extensive manual work.
These trends aim to make X-ray inspection higher resolution, faster, more automated and a seamless part of the manufacturing process. This allows maximizing quality and minimizing defects.
Solving the PCBA industry biggest problems
Working with ElectronicsTalk offers you high-standard PCBA products that are supplied from credible manufacturers in attractive cost.

We dedicate to provide the best customer support, its the vital aspect of our company philosophy.