A Place Find Your All PCBA Resource
Here you can find the competitive resource for all PCBA machines, from the SMT industry, THT and DIP equipment, assembly full-line solutions, electronic consumables, etc.
Leveraging more than two decades of industry expertise, ElectronicsTalk has empowered over 10,000 clients to enhance their manufacturing operations through comprehensive solutions and guidance.
Industry publication
released
5000+
Headquarters
at
Singapore
Industry publication
released
5000+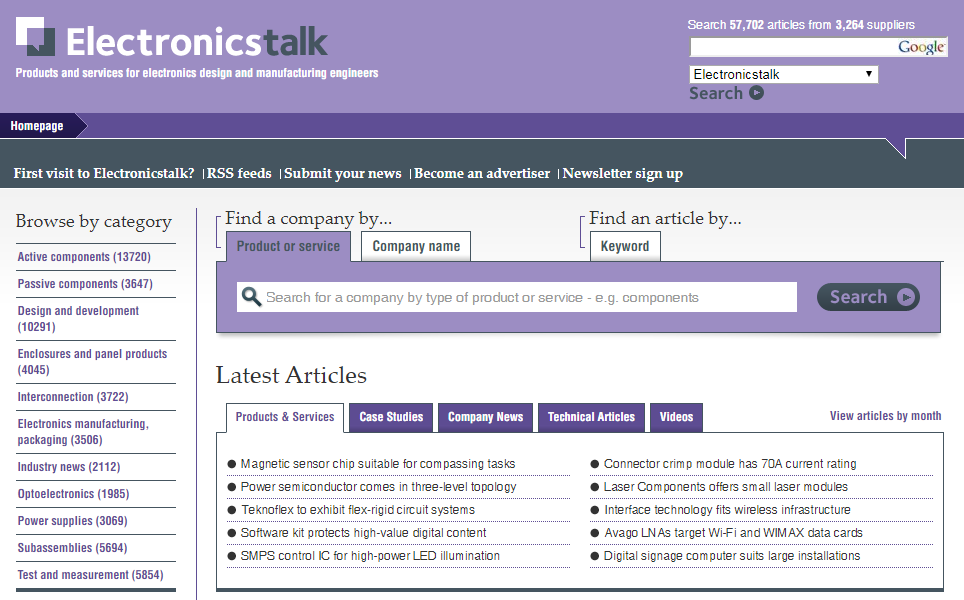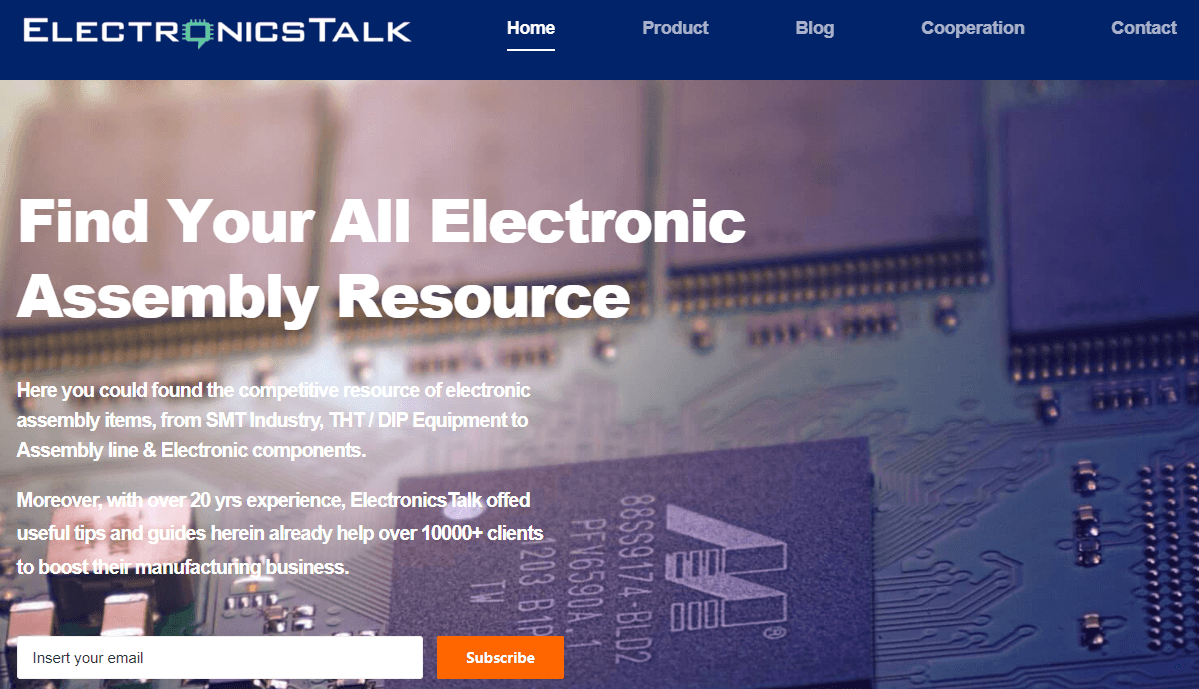 Mission

ElectronicsTalk has been a trusted source of information for professionals in the PCBA industry and manufacturing processes since its establishment in 2000.
ElectronicsTalk has become a prominent information hub in the PCBA industry and manufacturing processes, thanks to its collection of over 58K news releases from a vast network of more than 3,300 suppliers. As a result, it is widely regarded as a top source of information in this field.
N
ow, following customer demands and the experienced know-how we own, ElectronicsTalk is available to provide a list of high-end machines and solutions for PCBA, boosting your business.




south & north of American, Europe, Middle East and Asia are happy with ElectronicsTalk
versatile solution of SMT, THT, conformal coating and Assembly line offered here
One-stop to cover whatever you want in the industry of SMT, THT, Conformal coating, Customized automation & Consumables etc.
PCB Xray Inspection Machine

ElectronicsTalk is referred to as an organization that provides the latest technology in PCB inspection machines, and they have introduced their newest version called ET X5 PCB Xray Inspection Machine. It adopts the Japan Hamamatsu X-ray source and Korea Rayence flat panel detector, which ensures high-accuracy of focal spot size and pixel size. As a result, a clear X-ray image is capable to be produced.
PCB Handling
Our PCB board handling solution already covered all of the general types, which dramatically increases the flexibility of combinations.
On the basis of high standards and credible quality assurance, we can also make any customised service to meet your diverse requirements.
Solder Paste Printer
The initial stage of the Surface Mount Technology (SMT) process is crucial to achieving quality PCB board production. The solder paste printer plays a vital role in this step, as it determines the accuracy and consistency of the solder paste deposition in each position.
At our company, we prioritize precision and efficiency with our semi-automatic and full-automatic paste printers. Our devices are customizable to meet the unique needs of our customers and ensure accurate paste deposition. Trust us to deliver high-quality results for your PCB board production process.
Pick and Place Machine
The core PCBA equipment in a SMT line, pick and place machine will always be the most important part.
No matter you are cost-oriented customer or value-oriented customer, you are able to find out the most suitable model among all our pick and place machines.
Soldering Equipment
By applying the thermal technologies, our soldering equipment can maintain stable work performance and ensure reliability of control.
Here you can find type of benchtop, soldering station/iron, reflow oven & Wave soldering, all supported by customization.
Inspection Machine
Regardless of which process you want to inspect in the entire PCBA line, there are three products enable just fit solution for each scene, which are AOI, SPI, and X-ray & X-ray Counter.
Moreover, off-line on budget, in-line on higher efficiency, which both give you a stable perfom to optimize and achieve as close to an error-free assembly line.
Conformal Coating
Our coating technology is advanced and includes major components imported from Germany, ensuring high-quality results. Our production process includes real-time data monitoring management and on-site resource tracking, providing transparency and accountability throughout the process.
We are equipped with an efficient and precise coating system that meets international standards for PCB board production. Trust us to deliver reliable and consistent coatings that meet your specifications.
The Benefit You Got With Us
2 Decades experience ensure each of clients could get the most suitable solution and service according to their various requests.
Solving the PCBA industry biggest problems
ElectronicsTalk offers high-standard PCBA products sourced from credible manufacturers at competitive prices. As an organization, we are dedicated to providing the best possible customer support, which is a vital aspect of our company philosophy.

Our personalized approach to customer service ensures that you receive support throughout every step of the production process. Trust us to deliver reliable and high-quality PCBA products tailored to meet your unique specifications and requirements. With ElectronicsTalk as your partner, you can be confident in the quality of your PCB board production.