SM482 Plus Samsung Pick And Place Machine
The model consists of flux spraying, preheating, soldering functions. The wave peak is stable and the maintenance is simple, mechanical pump and electromagnetic pump are optional.
It can be used for soldering by a single solder machine or double solder machines. The maximum width for board passing can reach 600 mm. More importantly, the machine is normally used for massive production application scenarios.
Integrated full-function model, there are three PCB boards or fixtures inside the machine at the same time working at the spraying, preheating and welding points, which improves the overall production capacity of the machine. Independent spray motion platform and independent welding motion platform.
1. Flux Spraying Module
It adopts the original Germany imported spray head, with the opening diameter of 130μm.
The spraying diameter can be as small as 3μm, which greatly reduces ion pollution.
It can effectively save the using amount of scaling powder, the selective spraying saves at least 90% of flux compared with the traditional spraying.
It is provided with a flux filter, which cam effectively prevent the spraying head from being blocked.
The piezoelectric type injection valve and the micro scale type automation valve imported from Germany are optional.
By adopting the X/Y dual-axis servo motor control, with the positioning precision reaching ±0.02mm.
2. Preheating Module
Preheating is divided into independent temperature control in upper part and lower part: it adopts hot wind convection preheating on top, and short-wave infrared preheating on bottom, which increases heat efficiency, and meanwhile it ensures uniformity of temperature.
3. Soldering Module
By adopting the patented Gauss tin soldering nozzles, it solves the problems of soldering when the devices are dense
4. Flexibility For Your SMT Assembly
Adopted with modular design, it also compatible with SMEMA online connection, support customization for flexible line assembly. Full computer control, parameters are set and saved on the computer. Generating configuration files are easy for traceability and preservation.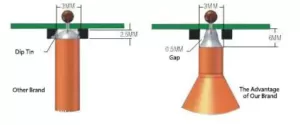 Solving the PCBA industry biggest problems
Working with ElectronicsTalk offers you high-standard PCBA products that are supplied from credible manufacturers in attractive cost.

We dedicate to provide the best customer support, its the vital aspect of our company philosophy.