On-line Selective Soldering Machine
Basic Description
On-line transportation, and it can realize On-line production with the previous section of machine. And the machine integrates flux spraying, preheating, and soldering in one piece.
By program switching, it can only select spraying, only select soldering, or firstly select spraying and then soldering; The maximum PCB dimension reaches 400 x 400 mm.
Small in occupation space and low in energy consumption; It is suitable for high quality, small batch and multiple variety. It has the optimum flexibility.
1. Conveyor System
The front and rear guide rails are driven by independent stepping motors.
It is transported by stainless steel rollers, running smoothly and without wear for a long time. At the same time, it is ensured that the nozzle of the tin furnace can reach the 3mm of the most board edge of the PCB.

Equipped with splint mechanism on the transportation rail to ensure accurate positioning.
2. Selective Tin Furnace Part

The nitrogen pressure is monitored by the electronic barometer feedback to the computer to ensure the effect of nitrogen protection.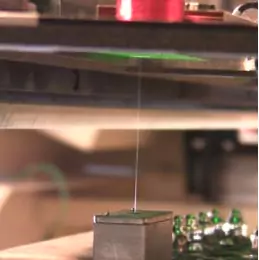 3. Preheating Part
The upper part of the transportation is equipped with far-infrared spotlight heating, which the position is adjustable.
The heating rate can be adjusted by computer.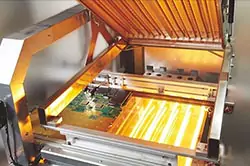 4. Machine Software System
Software functions developed based on Windows, humanized operation and good traceability.
Compatible with directly using PCB pictures or GERBER files for path programming.
The path starting point, welding movement speed, idle stroke speed, Z axis height, wave height, etc. can all be set on the computer.
After the path of a board is programmed, the path of the puzzle can be arranged through the array function, and the PCB board at certain positions on the fixture can be selectively welded.
Real-time display of welding process. Transported to the computer software through the camera, the welding process can be photographed, video recorded and saved.
Database function. With the increase of the time customers use the software, the types of solder and flux are constantly added, and the records generated for each product are more perfect. It can record the type of flux used in welding different products, the type of solder, welding parameters, product parameters, etc.
The software fully monitors key parameters, such as temperature, speed, air pressure, nitrogen pressure, etc.
Applicable to be upgraded to automatic peak height correction function. The interval amount of boards can be set to calibrate the height of peak each time.
Enable to be upgraded to MARK point positioning and use positioning frequency.
Solving the PCBA industry biggest problems
Working with ElectronicsTalk offers you high-standard PCBA products that are supplied from credible manufacturers in attractive cost.

We dedicate to provide the best customer support, its the vital aspect of our company philosophy.