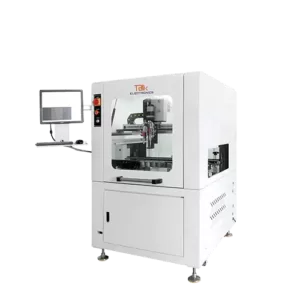 PCB Coating Machine – CC600
The model of CC-600 aims at the application scenarios of lower production capacity requirement with less function available when compared with other two models. It's because it has a maximum running speed of 600 millimeter per second which is lower than the other two. And it still use manual adjustment method with less efficiency.
However, it is still a standard equipment that carries 2 valves at the same time, which can realize 00-450 deflection. In addition, the 2 valves can realize auto-switching and matching of spraying action that achieve high-density circuit board spraying and dispensing process.
1. High-precision Selective Coating System
The machine can reach efficient positioning to avoid spraying outside the selected area, so as to exempt from the repairing coating process.
2. Software Programming
It supports CAD import, offline programming, and teaching programming, which is easy to learn and simple to operate. It will take only 5 to 10 minutes for a program.
3. Liquid Level Alarm
It is applicable for automatically reminder and alarm when the glue is running out, which is humanized.
4. Automatic Cleaning
With automatically valve dipping and cleaning function, reducing the operating cost.
Solving the PCBA industry biggest problems
Working with ElectronicsTalk offers you high-standard PCBA products that are supplied from credible manufacturers in attractive cost.

We dedicate to provide the best customer support, its the vital aspect of our company philosophy.