PCB Coating Machine – CC800
The selective conformal coating machine of CC-800 is one of the main products that Electronicstalk recommends to our customers, it owns high accuracy, high speed, and stable working efficiency. Since the reliable mechanical performance, it is able to compete with any other machines in the same class over the world.
Regarding to its working method, it has an operating accuracy of 20 micron, which can automatically eliminate errors. Besides, it uses the triaxial motion of X, Y, Z, and the selective spraying process of various PCB board can be accurately realized to avoid non-coated areas such as connectors. Besides, it adopts with 2 stepper motors in transportation, reaching high precision movement level and has a maximum 15000 millimeter per minute, which ensures a fast and accurate working flow.
Equipped with automatic width adjustment and narrow function (the width of input board can be automatically adjusted in place). Also, the software program has automatic programming of data input, which can manually inputs any track automatic programming mode.
1. Three-axis Motion System
Adopt X, Y, Z three-axis motion system, accurately realize the selective spraying process of various circuit boards with an intelligent automatic avoiding of non-effective area.
The screw module is imported and also equipped with Panasonic servo motor, provide high movement precision.
2. Multi-track Spraying Function
It can realize multi-track spraying such as dot coating, linear spraying, curved spraying, etc., and can complete the complex and high-density PCB board spraying process.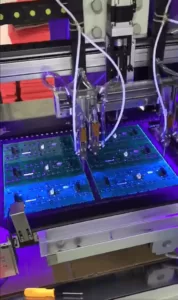 3. Automatic Width Adjustment Function
The device has an intelligent automatic width adjustment function, the width would be automatically adjusted when inputting the data of board width.
Chain design: unique double-layer chain design, no plate falling, no jamming, avoid glue spraying into the chain guide rail, easy to clean.
4. Environmental Protection System
The coating machine adopts with an ultra-quiet vortex fan equipped with a special waste recovery box activated carbon air purification device to ensure the safety of the workshop and employees.
Solving the PCBA industry biggest problems
Working with ElectronicsTalk offers you high-standard PCBA products that are supplied from credible manufacturers in attractive cost.

We dedicate to provide the best customer support, its the vital aspect of our company philosophy.