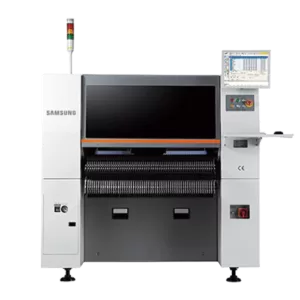 SM471 Samsung Pick And Place Machine
Owing to the two gantries equipped with 10 spindles per head and a new flying camera system, the placement performance of the machine is higher. Its placement speed has increased further to 78,000 CPH that is the highest all over the world among the same class of pick and place machines.
In addition, its component capacity is from chips of 0402 to maximum 14mm IC. Applied the electrical feeders, the actual shooting speed is increased as well as the placement accuracy. As a result of using two gantries and dual lane, it supports various production modes to maximize the productivity.
Contents On This Page
Hide
1. Dual Lane and Shuttle Conveyor



The use of dual lanes maximizes the productivity and application of shuttle conveyors enlarging the large size of the PCB flexibly.

Samsung 471 Dual Line Diagram – Photo Source: SMT Samsung
2.

Three production modes in terms of production
Under the common condition of less than D250mm, there are three modes available:
Join Mode: use of both front and rear feeder stations.
Single Mode: specifically for medium-size and large PCB.
Twin Mode: detached placement at front and rear sides.Various production mode can avoid the machine stopping problem as a result of the designed structure of dual lane.

 
Solving the PCBA industry biggest problems
Working with ElectronicsTalk offers you high-standard PCBA products that are supplied from credible manufacturers in attractive cost.

We dedicate to provide the best customer support, its the vital aspect of our company philosophy.