Lead Free Reflow Oven – 8 Zone
The 8 zone reflow oven is the most cost-effective model with long heating length and high conveying speed, owning medium to high production volume. High-precision control mode, maintain a stable and accurate temperature control system.
Adjustable temperature control ability and the blower speed of control separately, it can meet the high precision soldering requirements. Using the windows XP operating system, English and Chinese interface is available.
And it has a step forced cooling system, which can easily achieve the requirements of strict lead-free processes. The track are made of special alum with high rigidity accuracy and intensity.
1. Hot Air Motor And Special Heat Wire
Long axis high temperature motor has the characteristics of automatic cooling, long lasting performance and low noise.
Specially-made heating wire takes the advantage of star heating body with special coiling. It has the characteristics of quick heating, long lasting performance and low heat inertia.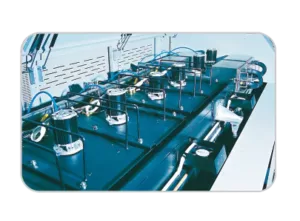 2. Cooling System



Strong inner-circle refrigeration system, reliable and stable.
3. Guide Rail Width Adjustment



In-phase gear width-adjusting system, ensure guide rail parallel.
4. New Design Independent Circulation



Lead-free soldering new designed independent wind blower and hot-air reflow circulation.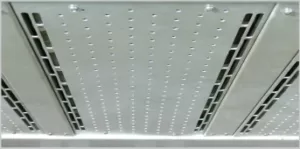 5. PC+PLC Control System



The digital control adopted with PC+PLC control system to maintain stable and repeat position accuracy. Moreover, all major parts are originally imported from the famous brands in the world which has guaranteed the machine is durable and reliable.
Lead-Free Reflow Ovens
Lead-free reflow ovens are specially designed to achieve reflow soldering using lead-free solder alloys. They adhere to regulations limiting lead usage while enabling high-quality soldering. This article provides an overview of lead-free reflow ovens and key factors to consider when implementing lead-free soldering.
Key Features of Lead-Free Reflow Ovens
Lead-free reflow ovens contain specialized features including:
Heating Zones
Multiple independently controlled heating zones ensure even heating across the oven.
Heating Elements
High watt density infrared heating elements quickly generate necessary heat.
Conveyor System
A stable, adjustable conveyor transports boards through the oven.
Temperature Control
Precise temperature control accommodates lead-free soldering's higher melting temperatures.
Cooling System
Controlled cooling prevents damage to boards after peak temperatures.
Control Unit
The control unit manages profiles, zones, conveyors, and other parameters.
Advantages of Lead-Free Reflow Ovens
Lead-free reflow ovens provide several benefits:
Environmental Compliance
They meet lead-reduction regulations for electronics manufacturing.
Health and Safety
Eliminating lead exposure improves worker and user health.
Global Acceptance
Lead-free electronics can be sold in all major world markets.
Considerations for Lead-Free Reflow Ovens
However, some important factors should be considered:
Temperature Profiles
Profiles must be tuned for higher melting lead-free solders.
Component Compatibility
All components must withstand higher soldering temperatures.
Quality Control
Tighter process controls are needed to limit soldering defects.
Comparison to Leaded Reflow Ovens
Key differences from leaded reflow ovens:
Higher peak temperatures required
Longer preheat stages needed
Nitrogen atmosphere useful for defect reduction
More control zones for even heating
Enhanced cooling capabilities
Lead-free solders, components, and PCBs
Selecting a Lead-Free Reflow Oven
When selecting a lead-free reflow oven, consider:
Production Volume
Match capacity to current and future production needs.
Board Size
Ensure the oven accommodates the largest board dimensions.
Budget
Allocating sufficient budget for proper lead-free oven capabilities.
Experience Level
Lead-free reflow ovens require expertise to implement effectively.
Using a Lead-Free Reflow Oven
Best practices for using lead-free reflow ovens:
Loading Boards
Use proper fixturing and spacing for even heating.
Setting Profiles
Create carefully tuned custom reflow profiles.
Monitoring Progress
Inspect in-process reflow to catch any issues early.
Cool Down
Controlled cooling prevents damage from thermal shocks.
Troubleshooting
Proactively identify and resolve any process issues.
Lead-Free Reflow Process
Key elements of lead-free reflow process:
Lead-Free Solder
Lead-free solders like SAC alloys matched to the oven's capabilities.
Flux
Using flux designed for lead-free reflow.
Atmosphere
Nitrogen atmosphere can reduce soldering defects.
Defect Detection
Inspect for common lead-free defects like head-in-pillow.
Applications of Lead-Free Reflow Ovens
Lead-free reflow ovens are used extensively:
Consumer Electronics
All modern consumer electronics must meet lead-free requirements.
Automotive
Environmental regulations drive auto manufacturers to lead-free electronics.
Aerospace and Defense
Mission-critical aerospace and military applications are lead-free.
Medical Devices
Stringent regulations mandate lead-free electronics in medical devices.
Future Outlook for Lead-Free Reflow
Emerging trends in lead-free reflow include:
Continued improvement of lead-free solders and process knowledge.
More affordable lead-free capable ovens.
Tighter process controls and automation.
Advances in inline inspection for defects.
Hybrid leaded and lead-free production capabilities.
Solving the PCBA industry biggest problems
Working with ElectronicsTalk offers you high-standard PCBA products that are supplied from credible manufacturers in attractive cost.

We dedicate to provide the best customer support, its the vital aspect of our company philosophy.