PCB Pick And Place Machine
The number of Spindles for PNP-580 can be 8 spindles, which makes it own a higher placement speed than the PNP-560 with number of 6.
As the competitive models with the same production capacity as the other brands such as Samsung 481PLUS.
Moreover, as compared the stability to the Samsung 481PLUS, the PCB pick and place machine can perform without any stopping issues that has been proved by so many customers all over the world.
1. High-Efficient Visual System



Imported negative pressure detection system is used to accurately detect the components, effectively preventing the component leakage and dumping issues.
Mark point recognition camera is applied, ensures the component quick recognition and precision positioning.
2.

Panasonic Servo Motor



Driven by a Japanese Panasonic servo motor widely used in imported placement machines, ensures the X/Y axis high precision motion and stable mechanical performance.
3. Fly Camera Origin From Germany



Equipped with 8 sets of Germany Fly Camera with 5 million pix, ensures a high precision of component recognition and enables to realize fully high-speed pictures taken without missing and stopping during the process, which also dramatically improved the placement speed.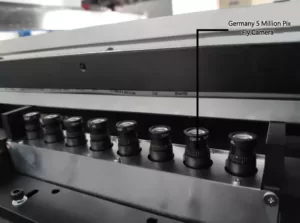 5. High-Quality Yamaha Nozzles
Using the same nozzles as Yamaha, it owns excellent quality and reliable performance during the picking process. Since this compatible design, it is more flexible and convenient for daily use.
Solving the PCBA industry biggest problems
Working with ElectronicsTalk offers you high-standard PCBA products that are supplied from credible manufacturers in attractive cost.

We dedicate to provide the best customer support, its the vital aspect of our company philosophy.