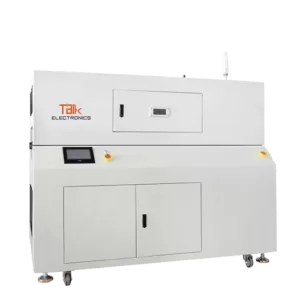 UV Curing Oven
The UV curing oven is also called UV furnace, which "UV" is the abbreviation of ultraviolet light. And "curing" refers to the process of converting a substance from a low molecule to a polymer. The UV curing oven is an equipment that obtains a coating film that can also be cross-linked through the rapid polymerization of a monomer/oligomer mixture.
Thus, the UV curing generally refers to the curing conditions or requirements of coatings (paints), adhesives (glue) or other potting sealants that need to be cured with ultraviolet rays, which is different from heating curing, bonding agent (curing agent) curing, natural curing, etc.
1. Light Source System
The equipment carries 2 sets of electronic dimming light sources at the same time, and the UV light intensity can be adjusted infinitely.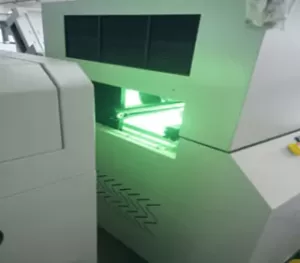 2. Conveyor System
Stainless steel chain conveyor, the effective width is 50-450mm, the width can be adjusted automatically.
The conveying speed can be regulated by the touch screen, and the conveying drive mode is driven by stepper motor.
3. Temperature Alarm System
Use of PLC and touch screen control, with independent temperature controller alarm, double over temperature protection.
4. Detection Function
The equipment has the function of detecting the entrance and exit board, and the amount and conveying condition of the inner board of the equipment can be observed at any time.
5. Automatic Opening Function
Hand-operated lamp lifting method, the device automatically lifts and opens the cover function. It can be observed at any time.
Solving the PCBA industry biggest problems
Working with ElectronicsTalk offers you high-standard PCBA products that are supplied from credible manufacturers in attractive cost.

We dedicate to provide the best customer support, its the vital aspect of our company philosophy.