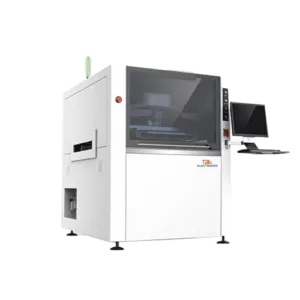 Solder Paste Screen Printer – 510*510mm
Basic Description
The SP-510A is a high-end automatic solder paste screen printer with high speed, high stability, and high accuracy production of smart wearable products/phone/Mini LED preferred. Besides, adopting with unique sprinkler automatic cleaning system, the production efficiency is improved.
By humanized design, it is easy and convenient to operate. Use international universal UVW three axis linkage platform, ensures a high precision camera positioning and calibration. Also, it owns a printing rage of 510x510mm, which is suitable for general size of PCB board.
1.

Seven Options For Solder Paste Screen Printer
Automatic add solder paste function
Automatic stencil inspection function
Automatic dispensing system
Squeegee pressure feedback function,
MSE/SPI online function,
Automatic constant temperature
Humidity function.
2. Platform Calibration System
Using the most advanced UVW three-axis technology in the world, it equipped with servo motor and lead screw, plus owns a compact structure, which ensures a high reliability, smooth and stable lift up/down platform.
The height of platform adjusted automatically by software control. Accurately realizing height adjustment for different types of PCB thickness.
3. Image and Optical System
Uniform ring light, high brightness coaxial light and advanced upper/lower vision system. Full range of light compensation, automatically and accurately recognized of all types MARK points.
Applicable for tin plating, gold plating, copper plating, tin spraying, FPC and other types PCB with different colors, able to ensure high accuracy.
4. Cleaning System

Automatic stencil cleaning system, with the effective three options: dry, wet, and vacuum cleaning, which are all individually independent. And another method is manually cleaning, it is optional.
By using CCD camera, the unit to clean is separated, which is able to minimize the motor load and impulse. It also can improve the positioning accuracy, speed and extend the service life.
Sprinkler system ensures spraying evenly, from top to bottom. The software function can control the dosage of alcohol and stencil cleaning paper, which efficiently saves more consumables.
It supports the patented vacuum cleaning with a dedicated fan, which is powerful and effective.
5. Scraper System
Arch bridge type suspending direct-connected scraper. The printing head is equipped with the suspending self-adjusted stepper motor, which is also programmable
The 4-wheel positioning slide type adopted with bilateral sliders, which guarantees the fast moving precision and stability when the scraper is running back and forth.
Two sets of separate scrapper heads are driven respectively by two high precision stepper motors, ensuring the accuracy and stability of the pressure.
The closed loop pressure control system enable to inspect and control the squeegee pressure accurately during the real-time production.
Solving the PCBA industry biggest problems
Working with ElectronicsTalk offers you high-standard PCBA products that are supplied from credible manufacturers in attractive cost.

We dedicate to provide the best customer support, its the vital aspect of our company philosophy.