AOI360N – Online Automated Optical Inspection Machine

Basic Description
The model of AOI-360N has a better performance than the off-line model for its automatic mode, larger size of inspection item, and connectable with other on-line machines. It can inspect various items and taking an extremely clear image of the item by an ultra-high-pixel industrial camera.
And then, the data can be calculated in an intelligent and automatic method to minimize the processing time. With an automatic board feeding function, this online automated optical inspection machine can increase the inspection volume. Comparing to the off-line model, it also has a higher PCB height that is aimed at improving component applicability.
1.Option

High-resolution Telecentric Lens

:

An optional telecentric lens with high resolution, unique parallel light design that the PCBA tilted or tall components can be distinctly displayed.
Large Bar-code Recognition System

: When the bar-code exceeds a single FOV, the bar-code divided by the FOV can be spliced into a complete bar-code.
The flying FOV is extremely difficult to recognize when facing a large bar-code, and the machine can handle without any pressure.
2. Five Million Pixel Industrial Camera

The machine is equipped with an ultra-high-resolution industrial camera, which can take a clear and high-quality picture of the PCB board. It efficiently ensures the stability of image shooting when the machine is working.
3.

Precise and Reliable Mechanical and Electrical Functions



The motion system uses servo drives, precision grinding, and screw rods to control the motion structure, with extremely high precision and reliability, and reliable electrical performance
4. X, Y-axis Driving Parts

The X, Y-axis both adopt the high-precision screws and motors to drive, ensure the stable and reliable moving performance.
5. Automatic Splint

The splint positioning and adjustment are quick and automatic.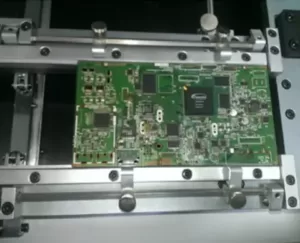 6. Original Whole Board Matching Function

Whole board inspection, seamless docking, precise positioning, splicing the whole board picture into a single picture, it can detect throwing materials, multiple pieces, tin balls, gold finger scratches, and bad plates on any position of the PCB board.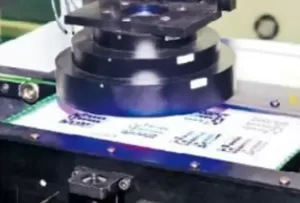 7. Flexible Mobile Maintenance Station and SPC Query Terminal

Using mobile terminals under the wireless network, it is possible to set up workstations at any position in the workshop, adopting one-to-many mode, and confirming the detection data of multiple online machines through a maintenance workstation, which has achieved the goal of saving personnel.
Well-designed SQL data system, the SPC data reported through the pie chart and histogram, which is very convenient for customer process analysis and quality improvement.
8. Programming System

Intelligent and fast programming, intelligent algorithm, no need for manual intervention, easy to learn, high detection rate, low error rate.
9. GPU Independent Hardware Processing Images

It adopts the GPU-independent hardware processing images, while CPU processing non-image computing, so as to balance the efficiency of the computer system.
10. Convenient and Practical Offline Programming Software

Adopt OLP Offline programming software, which is easy and practical.
Real-time PCB genuine image shooing system, enable to be stored in full memory, which also ensures high-efficient programming under circumstances of either online or offline.
Solving the PCBA industry biggest problems
Working with ElectronicsTalk offers you high-standard PCBA products that are supplied from credible manufacturers in attractive cost.

We dedicate to provide the best customer support, its the vital aspect of our company philosophy.